Meet the passionate and dedicated supported employment and business leaders on the CASE Board of Directors
These volunteers from across the country engage as champions for employment equity and create impact locally and nationally as CASE pursues employment inclusion for all.
Annette Borrows has been helping persons who experience disability towards employment for the past twenty years. She has gained experience working with people who have mental health diversities and mobility and cognitive complexities. Annette has also written and facilitates the Supported Employment Specialist series and specializes in customized employment. She has spearheaded and written content for Canada's National Supported Employment Best Practices found at employmentforall.ca.
Annette is the Employment Strategy Manager for Langley Association, Delta Community Living Society and Community Futures of the South Fraser. She holds a degree in Adult Education as well as Certification in Workplace-Based Training. Annette has served on the CASE board since 2011.
Garth Johnson co-founded Meticulon in 2013, Canada's first enterprise to deploy the unique abilities of individuals with autism as IT consultants. Garth's entrepreneurial career in IT has encompassed roles such as VP of Business and Community Development for iStockphoto and President of Fotolia North America, currently identified as Adobe Stock photo. Garth brings his personal life experience with having an individual with autism in his family, together with his professional passion for building sustainable, disruptive businesses to auticon Canada's mission to grow across the country and expand our services into new sectors. Garth also serves on the board of the Canadian Association for Supported Employment in support of its mission to create sustainable, equitable employment for all Canadians with diverse abilities. In addition, Garth serves as Board Chair of Between Friends, a Calgary-based organization that provides social and recreational opportunities for people of diverse abilities within the community. Garth's passion and dream is to help foster a world where people with diverse abilities are fully integrated into all levels of society, experiencing life to the fullest.
Ernie Thiessen is the Executive Director for Premier Personnel, a supported employment agency in Winnipeg, MB, and has been employed in the field for over 20 years. Through the years, he has worked as a frontline worker providing job coaching, job search supports and marketing. He has also worked specifically on school-to-work transition programs and has a strong interest in the early connection to employment for persons experiencing disability. Ernie has also been actively involved in advocacy and awareness around supported employment issues for many years. He has served as Chairperson and board member at the provincial level for the Manitoba Supported Employment Network on many occasions.
Ernie enjoys spending time with his family and loves to help coach a variety of sports in which his kids have been involved (and still enjoys a little healthy sporting competition himself) when he is out of the office.
Newfoundland Labrador, Canada
Shelley Andrews has been employed with Avalon Employment Inc. in St. John's, Newfoundland for the past 17 years where she is currently an Employment Counsellor. Working with individuals, families, business and government partners, Shelley supports and navigates the world of employment for her clients following a client-centred approach.
Prior to joining Avalon Employment, Shelley worked in the media helping to develop radio and advertising campaigns. This valuable skill set was transferred to her work with Avalon Employment and the Supported Employment Network in her province.
Shelley was also involved in an 18-month Social Return on Investment Research Project with the New Economic Foundation in England and is the co-author of a report that examined the Return on Investment for Government as it relates to employment for individuals experiencing disability. In addition, Shelley was part of the Working Committee of the Hire for Talent Project through CBDC-New Brunswick which helped develop a tool for employers to leverage the talent of persons who experience disability to help grow their business. Shelley was involved in the Community of Practice working group with the Mental Health Commission of Canada to help develop a strategy to incorporate a supported employment model to work with individuals with mental health challenges.
Shelley is one of the longest serving members of the CASE Board and is honoured to be Secretary.
Shelley enjoys spending quality time with her two teenage daughters as well as hanging with friends.
Prince Edward Island, Canada
Devon has 10 years of professional experience assisting persons who experience disability in advancing their skill sets and obtaining gainful employment.
She became a vocal advocate for persons who experience disability in 1996 when her daughter was born with Spina Bifida. Devon has since been looking at the world through a disability lens, promoting inclusion for all.
Devon is employed with the PEI Council of People with Disabilities (PEICOD), a non-profit organization whose mandate is to "promote the full inclusion of persons with disabilities in Island society." She began her career at PEICOD in the Community Access department providing advocacy, awareness and supports for community and disability benefits. Devon then transitioned to the Employment department, pursuing her passion for helping people realize their employment and education goals. She is now the Employment Services Manager for PEICOD and sits on the board of the PEI Career Development Association. As Manager of Employment Services, Devon oversees various employment programs, including pre-employment workshops, one-on-one case management, Job Development, Job Coaching and an Opportunities Fund wage subsidy program "Abilities@Work." She is also involved in employer engagement initiatives on PEI and is responsible for staff development and training.
Devon has two daughters, Carlee and Rylee, and you can find all three of them singing all across PEI at various events.
Nicole is the Executive Director of Nunavummi Disabilities Makinnasauqtiit Society (NDMS), the only cross-disability advocacy organization in Nunavut, and is a Sessional Instructor with the University of Victoria. Nicole is also working towards a PhD in Social Work.
Nicole is passionate about social justice and looks to enhance the rights and overall health and well-being of individuals and families while respecting cultural norms and Inuit Qaujimajatuqangit (Inuit Societal Values). These cultural norms and values are a fundamental characteristic of health and wellness in Nunavut. Nicole's areas of interest include advocacy for marginalized populations, trauma-informed practice and disability rights. 
Nicole resides in Nunavut with her husband and two children.
Maureen has been the President and CEO of CCRW since 2012. CCRW is the only national organization with the sole vision of equitable and meaningful employment for persons who experience disability. It has been a strong advocate for this vision for over 40 years. Under Maureen's leadership, CCRW has seen an increase in direct program service throughout Canada, as well as a more transparent streamlining of understanding the business case of hiring a person experiencing disability. Maureen provides insight into employer engagement through CCRW best practices and proven results.
Maureen has been very active in the cross-disability sector, currently focusing on employment issues. She has been involved with numerous committees and groups that increase awareness of and access for the disability sector and the Deaf community and is fluent in American Sign Language.
Maureen works in Toronto and lives in Markham with her husband and two sons.
Deb Hotchkiss has been the Executive Director of Partners in Employment for two decades. Their focus is on inclusive employment for all people.
They assist hundreds of people a year to find and keep employment.
She lives in a small rural community in southern Ontario. She is married with two adult children and an awesome grandson! As a two-time cancer survivor, she has no tolerance for wasting time!
Lisa Noel Smith is a senior client service manager in Claims and Rehabilitation Services with WorkSafeBC.
Lisa has expertise in disability management and a strong grasp of psychological health and safety. She is currently completing her Masters of Arts degree in Counselling Psychology. She has a Bachelor of Arts in addition to a diploma in social services. She worked for Social Services in Ontario for 11 years and spent 10 years overseas teaching English across five countries. In 2006, Lisa returned to Canada and began managing programs with Choices Association Inc., supporting persons who experience developmental disability to pursue opportunities to actively participate in their community.
Jennifer grew up in Cape Breton Island and graduated from Cape Breton University with a Bachelor of Arts in Community Studies in 2006. Following her graduation, she moved to Alberta where she began her career supporting adults experiencing developmental disability. She completed the Alberta Supported Employment Consultant Training in 2011. She assisted with the development of a program for at-risk youth that helped them choose education and career paths. She has also received training in Person-Centred Thinking and Person-Centred Reviews.
She started working at Signature Support Services in Grande Prairie, Alberta in 2007. They are a non-profit agency that supports persons who experience developmental disability. She started her employment as a Job Coach and, two years later, took over coordinating the program, which she has done for the past eight years. The Employment Supports Program helps persons experiencing developmental disability find employment within the community of Grande Prairie. It is their belief that everyone can find and sustain long-term employment with the right supports. The program's focus is to help the individuals they support to become as independent as possible. They have had great success with some people having 15-20 years of employment with the same employer.
In addition to Jennifer's Employment Program responsibilities, she is also responsible for much of the staff training and development within the organization.
Cory is the Executive Director of the Ergon Life Centre located in Riverview NB and, for the last year, has been seconded to the role of Executive Director of the New Brunswick Association of Supported Services and Employment. As a counsellor, Cory has worked the last 16 years in support of adults living with various mental health challenges.
Cory is very active in the areas of Mental Health advocacy and supported employment. Cory currently sits as the chairperson for the Community Advisory Committee on Mental Health, is the past Vice-President of the New Brunswick Coalition of Mental health and Addiction Services, and recently sat on the Executive of the New Brunswick Association of Support Services and Employment as Interim President until assuming the role of Executive Director.
Since 2004, Cory has proudly served as a reserve force officer in the Canadian Armed Forces.
Cory resides in Riverview NB where he raises his four children, two by blood and two by love.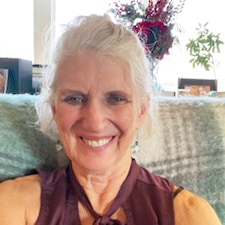 Jude currently works at TEAM Work Cooperative Ltd/NS works as the Operations Manager. She holds a Bachelor of Human Ecology and was awarded "The Senate Medal of Distinction" from Mount Saint Vincent University. She specializes in Family Studies, Gerontology and Disability Management. She has a professional certification in counselling, leadership/management and project management. As well, Jude is a certified Human Resource Practitioner and Career Development Practitioner. She also has a certificate in non–profit sector management. Jude has sat on several Boards, Collaborative Partnership Network, Society of Deaf and Hard of Hearing Nova Scotians and Reachability.
Previously, Jude was the Executive Director of The Work Bridge Association, an employment agency for job developers assisting job seekers who self-identified as persons experiencing disability. It was co-located with TEAM Work and Jude has worked with individuals experiencing disability during a career spanning 20-plus years. She is a person with a physical disability, living with rheumatoid arthritis for over 27 years. It makes her even more passionate about helping others with barriers and disabilities to live a full and productive life, including work!
Want to know more about us?
Click on the links provided to learn more about CASE.
About Supported Employment
Learn More
Want to Know More About Us?
Click on the links provided to learn more about CASE.
About Supported Employment
Learn More
Board of Directors
Learn More
Sign up for our e-newsletter and stay current with all the latest from CASE and supported employment work across Canada and beyond. You'll also receive our latest promotions and offers. We will not share your email address with any third-party vendors. See our Privacy Policy (at the link below under Quick Links) for full details on how we protect your personal information.
Tell us about new, innovative supported employment initiatives your organization is spearheading. Please send us your ideas or advice on how CASE can better serve you.